ORLANDO ESTRADA
The Infinite Vision in the Ethereal Rainbows Swarming Behind my Eyelids Reveals a Beacon
2021
Download Press Kit Here
Presented by Bas Fisher Invitational (BFI) and Bridge Initiative
644 Collins Ave, Miami Beach, FL 33139
April 27th - July 23rd, 2021

Open Hours:
Thursdays & Fridays
11-6pm
& By Appointment /
Make an appointment to see the show by emailing info@basfisherinvitational.com
As spring breakers stumble past the former True Religion Jeans boutique on Miami's South Beach, a pause reveals an exhibition examining Miami's potential course of ecological destruction through a captivating and kaleidoscopic lens.
The Infinite Vision in the Ethereal Rainbows Swarming Behind my Eyelids Reveals a Beacon
is Orlando Estrada's first solo exhibition in the city, marking a homecoming for the Miami-raised, Puerto Rican artist. Produced during a month-long residency with Waterproof Miami, the works are on view at 644 Collins Ave from April 27th - July 23rd, 2021. The exhibition space, generously provided by
Miami Beach's Open House program
and Goldman Properties, will be home for this latest project in the Waterproof Miami curatorial series from Bas Fisher Invitational (BFI) and Bridge Initiative.
Within the exhibition resides "
Tiered Panorama
", a rotating, multi-level sculptural centerpiece addressing Miami's future slippage into the sea. This colossal and talismanic work is filled with parables of death, rebirth, whimsy and ecstatic prophecy. Focusing, as well, on the effects of plastic waste on the biosphere,
Tiered Panorama
plays with concepts of how the production and use of petroleum-based plastics upend the natural fossil layers within the crust of the earth and confuse these natural markers of time.
Tiered Panorama
also takes inspiration, and its title, from
The Panorama of the City of New York
, one of the largest scale models in the world and the "crown jewel" of the Queens Museum's permanent collection. Presented as a celebration of the City's infrastructure by Robert Moses for the 1964 World's Fair,
The Panorama of the City of New York
exudes a kind of monumental reverence for the built environment as one of the grandest achievements of humanity. In contrast, Estrada's
Tiered Panorama
on Miami Beach is a depiction of Miami's built environment being retaken by the elements. Estrada's postnatural diorama of Miami collages organic and artificial materials such as coconut fiber, sea shells, swarovski-encrusted bones, UV pigments, and plastic Halloween masks, creating a vibrant and gritty vision of the city, literally glowing under the residue of petrocapitalism.
Transformation is also a central theme in
Tiered Panorama
which expands on Estrada's ongoing series of mystical, mixed media landscapes. Using practical construction methods, ingeniously upcycled consumer waste, and 3D printing technology - cereal boxes, broken cell phones, artificial pearls, various forms of plastic and many other unconventional art materials become power objects; elevating craft to the realm of the sacred. This artwork is a shrine for contemporary ecosystems, highlighting plastics as ubiquitous, if not foundational, to the modern era. Estrada's sculptural work takes origin from his grandmother's expansive collection of ornamental Christmas villages as well as the Puerto Rican craft of Casitas. Casitas are typically miniature ceramic facades of traditional island homes, and this idea transforms into a nuanced and compelling statement through Estrada's visionary lens. His animated and cinematic artwork functions as an omen; warning of a dystopian world of runaway emissions and pollution. Appearing as a demented architectural model of an imagined Miami of the future, the artwork is a mirage of a city featuring idyllic vignettes, hellish apparitions, and a central, phantom lighthouse in perpetual rotation.
The fabrication process of Estrada's sculptures yield countless cast-offs and residues that the artist recycles back into other works. This circular material ecology is visible in the series of
Fire Paintings
that are also on display as part of
The Infinite Vision in the Ethereal Rainbows Swarming Behind my Eyelids Reveals a Beacon
, where airbrushed canvases hold the shadow image of flames that appear elsewhere in the exhibition.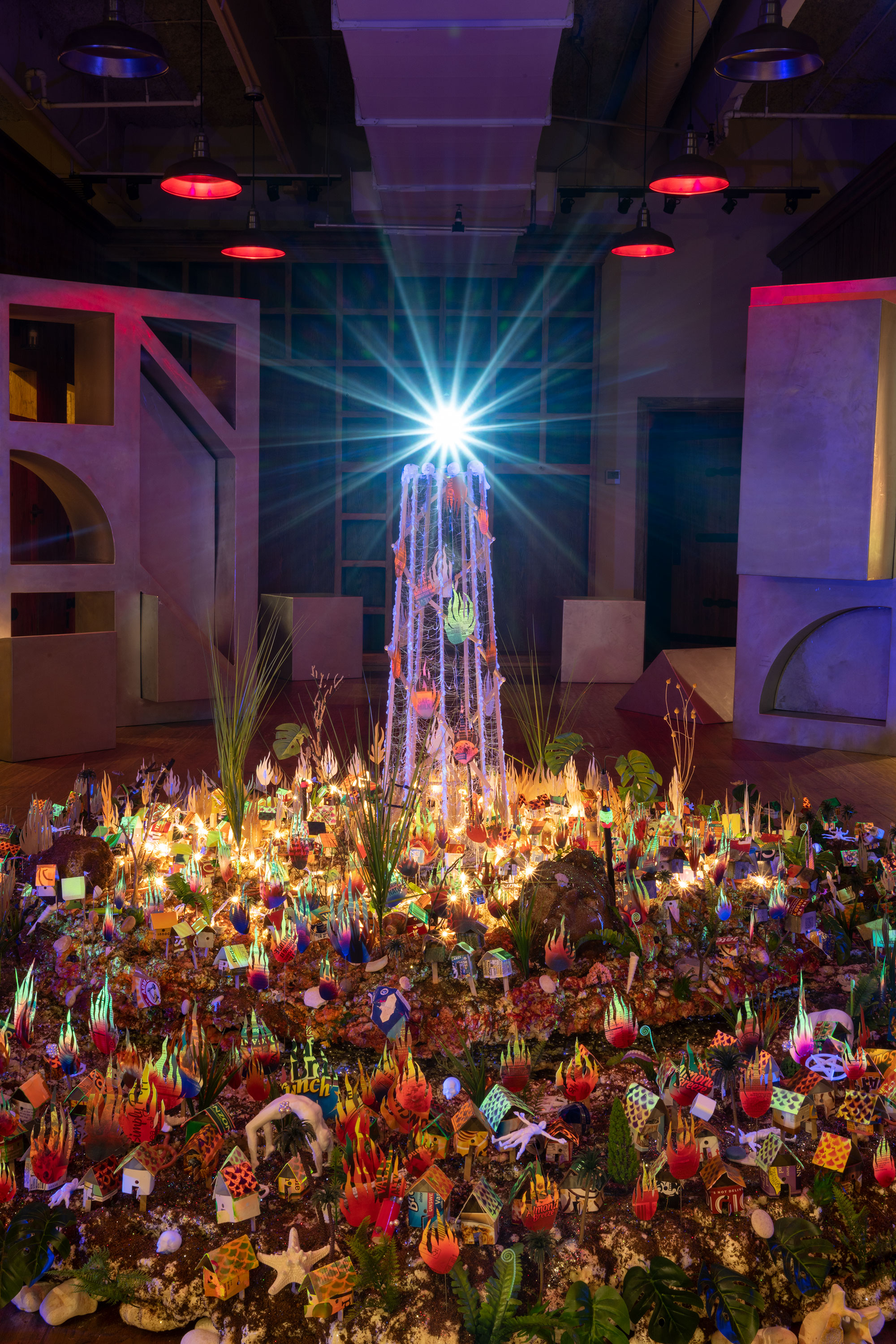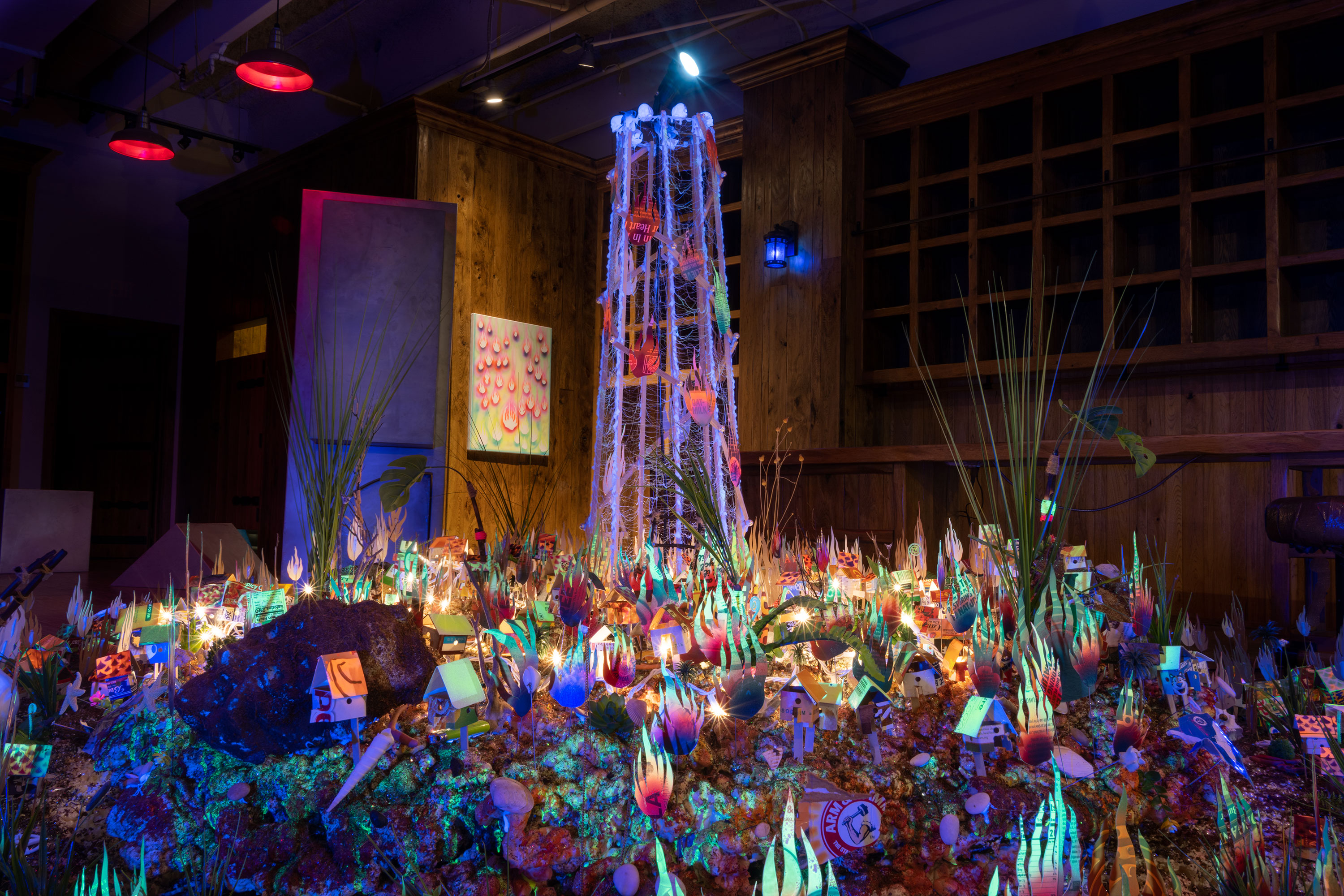 The Infinite Vision in the Ethereal Rainbows Swarming Behind my Eyelids Reveals a Beacon
can be viewed during open hours as well as through street-facing windows on Collins Avenue when the gallery is closed. Through July 23rd, the gallery is open 11am-6pm on Thursdays and Fridays, and by appointment. To schedule an appointment to visit the show, email thebasfisher@gmail.com .
This exhibition is part of WATERPROOF, an initiative organized by Bas Fisher Invitational and Bridge Initiative. WATERPROOF is a series of site-specific artists' projects presented in unexpected public spaces developed in direct response to the environmental issues facing South Florida, planned through 2021. This exhibition builds upon
Dear Miami, a September 2020 WATERPROOF project
that Estrada was commissioned to produce leading up to the 2020 Election.
About Orlando Estrada
Orlando Estrada is an interdisciplinary artist based in Brooklyn, New York. In his work, Estrada constructs futuristic metanarratives through the conceptual lenses of queer theory, mysticism and science fiction. Estrada's ongoing series of sculptural landscapes depict dystopian visions of future lands, or an allegorical planet Earth. Imbued with both childlike naivety and deep philosophical gravity, conceptual oppositions seen in the works tell a haunting story of sublime yet imperiled beauty. Combining both man-made and organic material, the compositions form an ironic social analysis and bluntly confront the global climate crisis.
Orlando Estrada holds a BFA from Florida International University and an MFA from the University of Florida. His work has been exhibited in museums and galleries internationally including 182 AVE C (NY), Marinaro Gallery (NY), Pioneer Works (NY), Knockdown Center (NY), El Museo del Barrio (NY), David B. Smith Gallery (DEN), David Castillo Gallery (MIA), Art Center South Florida (MIA) and Fundación del Centro Cultural del México Contemporáneo (CDMX). Estrada has participated in multiple residencies including a studio residency with the Bruce High Quality Foundation University and Apexart International Artist Fellowship in Seoul, South Korea.
WATERPROOF MIAMI IS A COLLABORATION BETWEEN
BAS FISHER INVITATIONAL --&-- BRIDGE INITIATIVE

MIAMI FL 2022