We're pleased to present Dear Miami, a newly commissioned billboard installation by NY-based, Miami-raised, artist Orlando Estrada, as part of WATERPROOF MIAMI.

Inspired by The Garden of Earthly Delights by Hieronymus Bosch, this piece depicts Miami split into two opposing landscapes: a tropical "heaven" on the left and as a post-climate apocalypse "hell" on the right. In the center of the composition, a personification of the city appears as a one-eyed figure thrown over the landscapes in mourning of her own destiny. To create this image, Orlando Estrada first constructed a real sculptural altar and then photographed it in the style of a 15th-century altarpiece painting. This conceptual "doubling" is a queer language that Estrada uses throughout his practice. This slipperiness mirrors the syncretism of Santeria and other Afro-Caribbean religions that use altars in worship and whose histories are deeply tied to the culture of Miami. The title, Dear Miami, also performs this "doubling"; addressing both the audience for whom Estrada created this billboard and functioning as Estrada's own voice speaking to the altar that he has constructed to honor his hometown.

For this latest project in the WATERPROOF Miami curatorial series, Estrada's image has been reproduced in monumental scale and is accompanied by text which bluntly confronts the city's vulnerability to rising sea levels: Miami is drowning. Where will we go? Located directly adjacent to the saltwater intrusion line on the C-4 canal, the site of yet another worsening climate-related problem with serious implications for the city, this public art intervention will be viewed by close to 2,000,000 highway commuters in the 4 weeks leading up to Election Day. The timing of this installation also coincides with the annual King Tide season, when an apparition from the near future becomes hypervisible, as saltwater washes over the lowest-lying parts of South Florida during high tide. Asking us all to consider what will become of the Magic City if we don't demand immediate climate action, Dear Miami addresses the reality of population displacement and the impending climate refugee crisis South Floridians will face within our lifetime.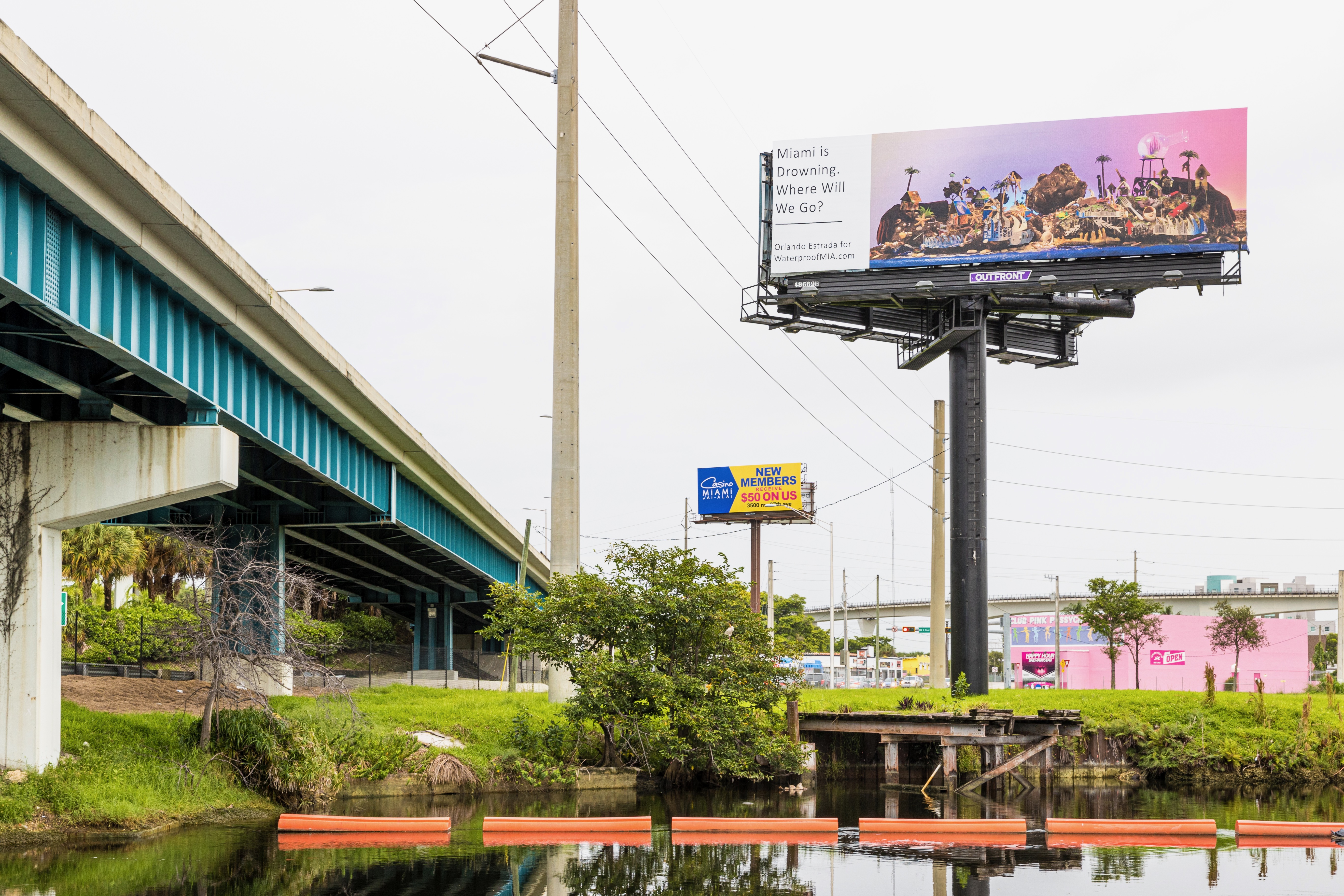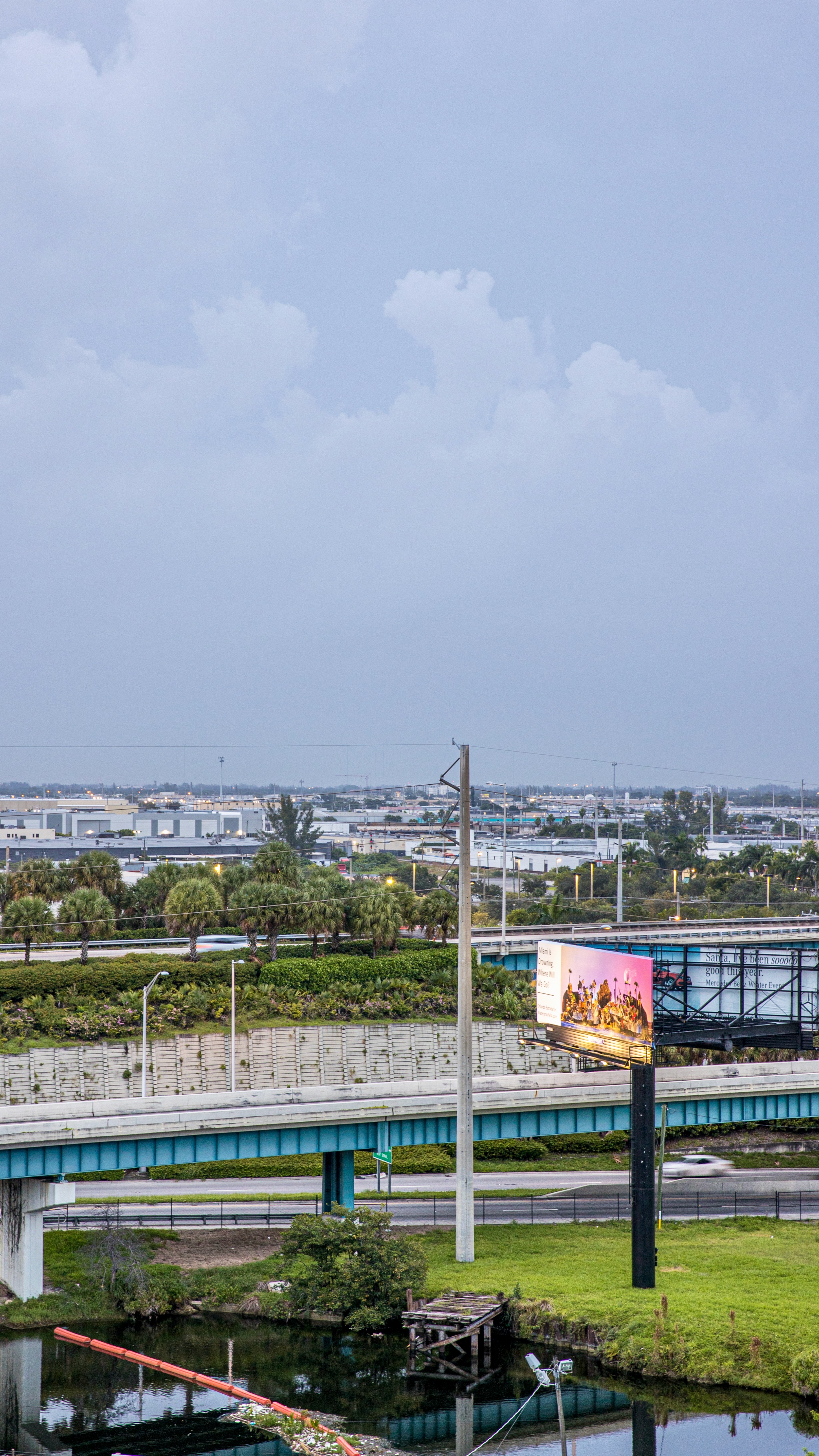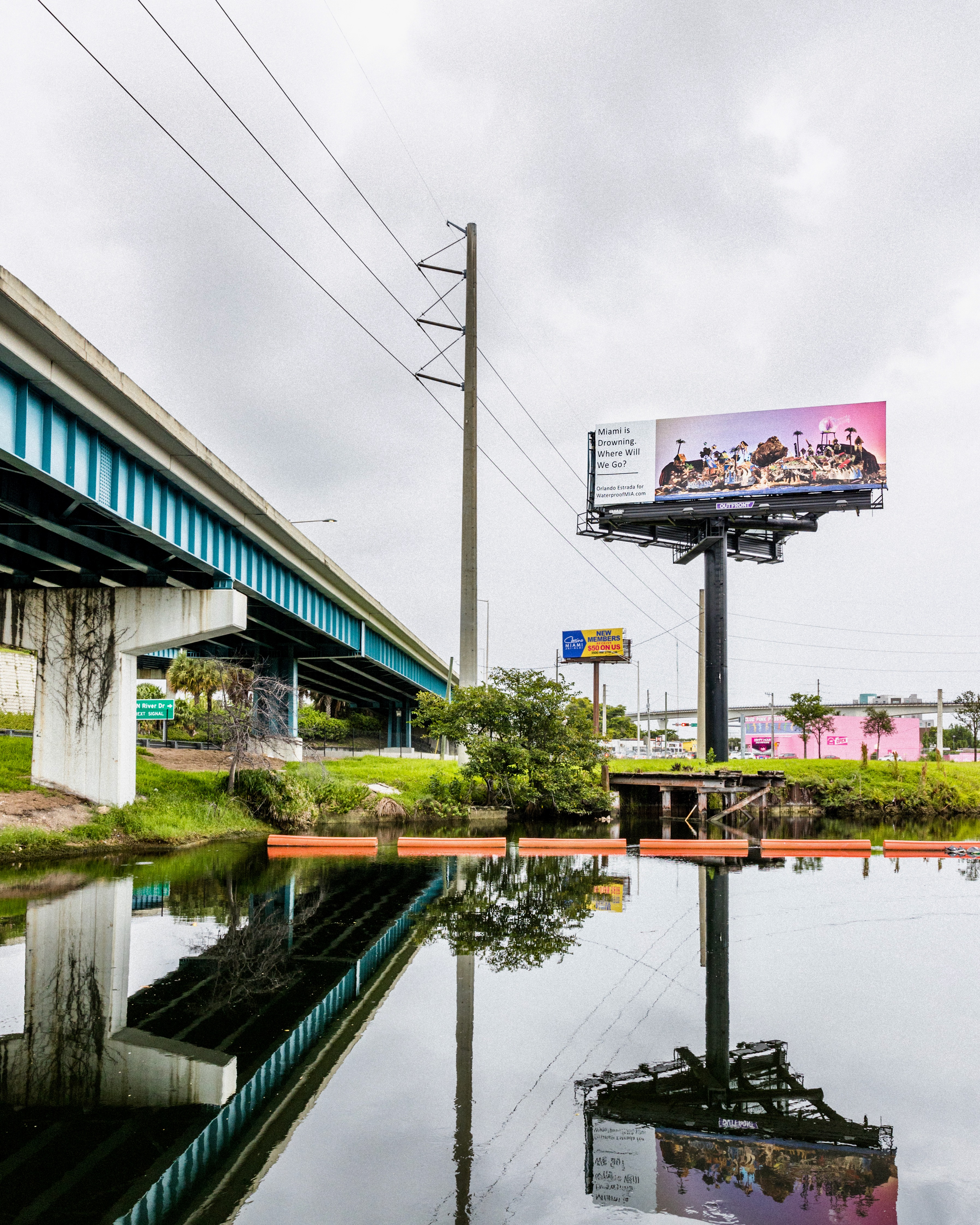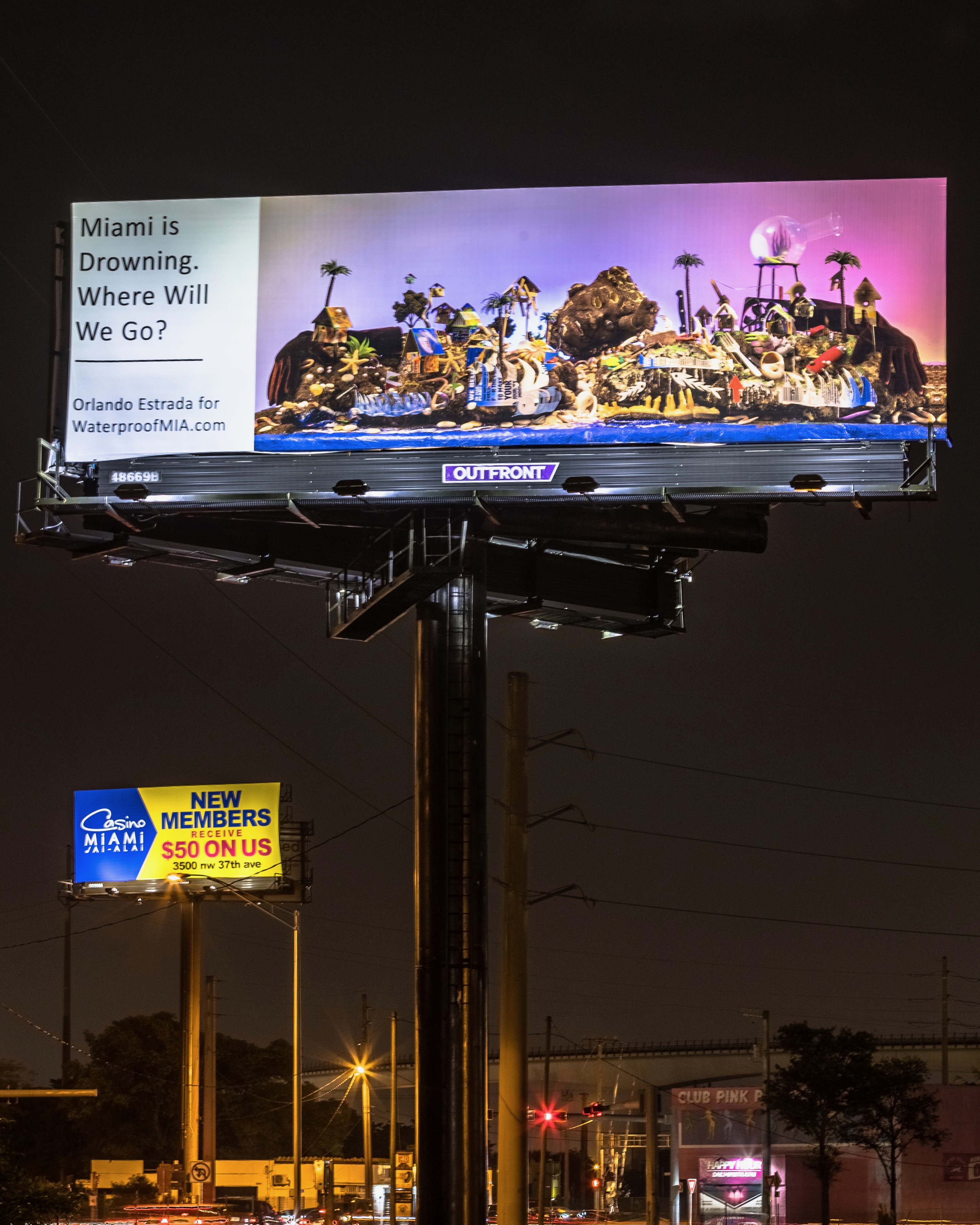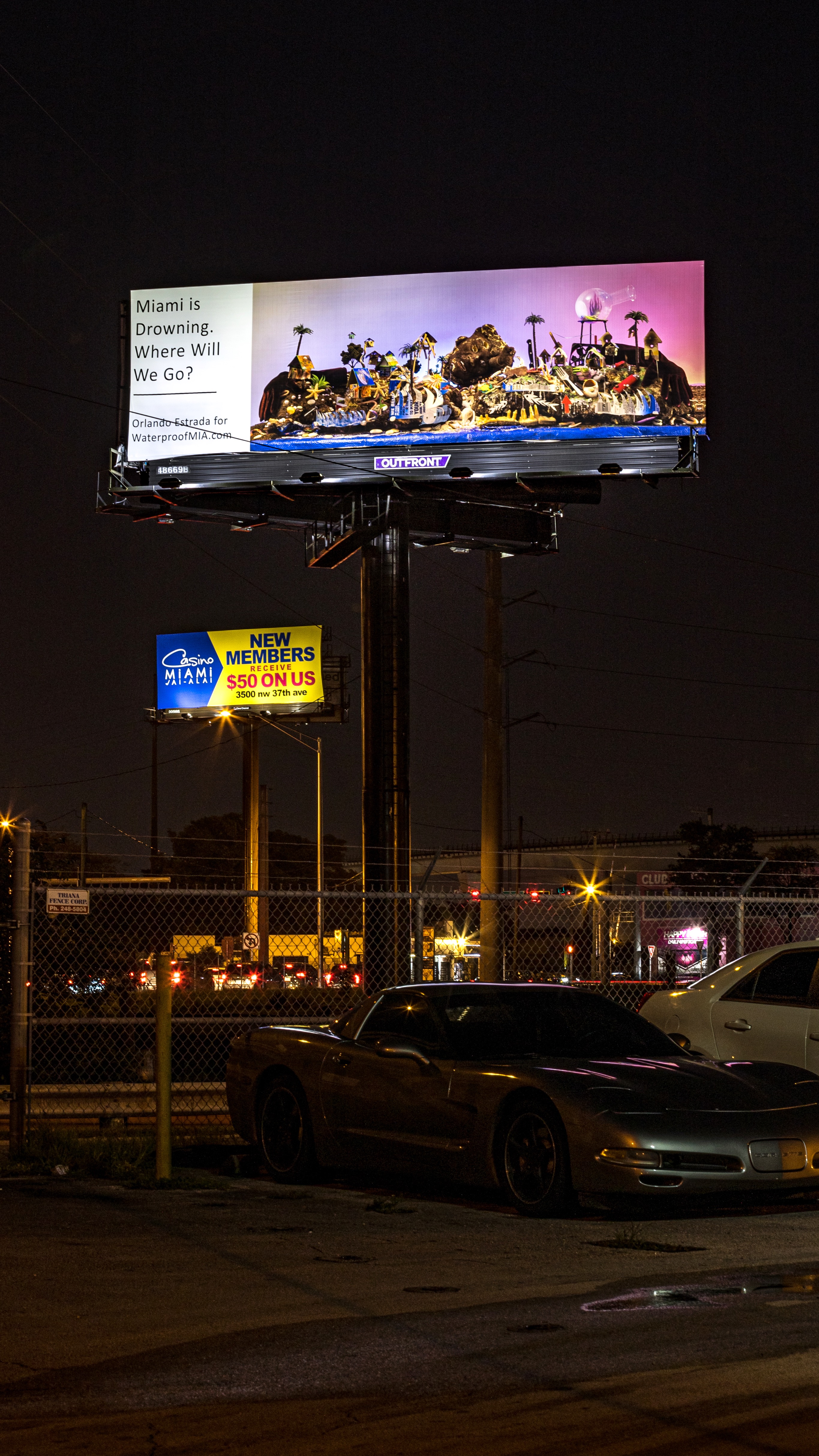 Installation Documentation by JeanCarlo Ramirez / IndieHouse Films.
Orlando Estrada is an interdisciplinary artist based in Brooklyn, New York. In his ongoing sculptural series, Estrada combines man-made and organic material to create mystical landscapes analyzing the ways in which humans interact with the natural world. He holds a BFA from Florida International University and an MFA from the University of Florida. His work has been exhibited in museums and galleries internationally including 182 AVE C (NY), Marinaro Gallery (NY), Pioneer Works (NY), Knockdown Center (NY), El Museo del Barrio (NY), David B. Smith Gallery (DEN), David Castillo Gallery (MIA), Art Center South Florida (MIA) and Fundación del Centro Cultural del México Contemporáneo (CDMX). Estrada has participated in multiple residencies including a studio residency with the Bruce High Quality Foundation University and Apexart International Artist Fellowship in Seoul, South Korea.
WATERPROOF MIAMI IS A COLLABORATION BETWEEN
BAS FISHER INVITATIONAL --&-- BRIDGE INITIATIVE

MIAMI FL 2022