HYPER! HYPER!
Esben Weile Kjær Esben Weile Kjær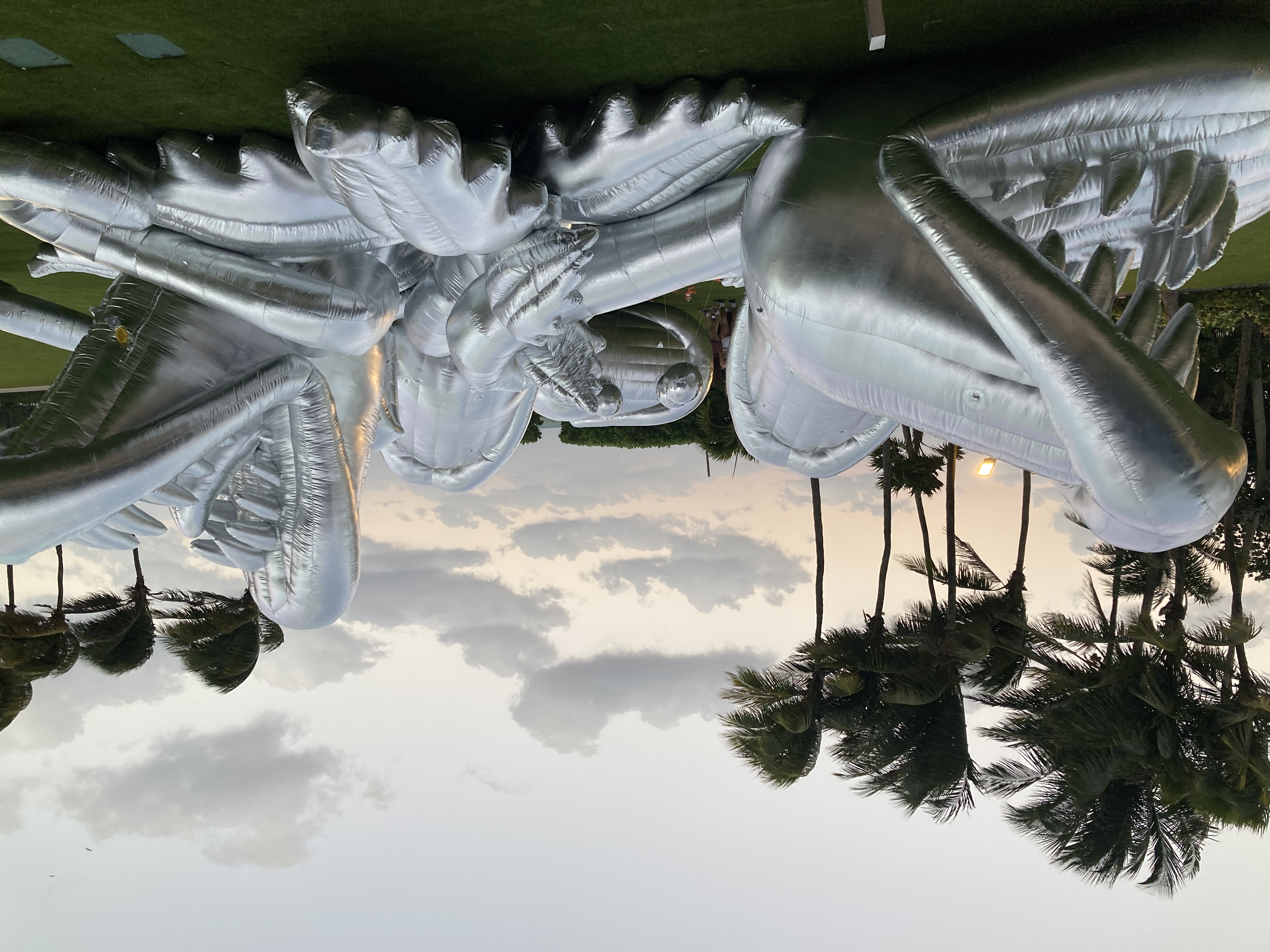 HYPER! is a new sculpture and performance piece by Danish artist Esben Weile Kjær presented in collaboration with Bas Fisher Invitational (BFI, Miami), and Danish curator Anna Frost.

HYPER! consists of giant inflatable carnivorous plants in reflective silver material resembling Jeff Koon's famous Tulips sculptures. Borrowing this familiar iconography, the sculpture takes the audience on an imaginary journey from inflatable balloon animal, through the solid steel works of one of the art world's best-known sculptors, to a new version that looks like metal but is soft like a bouncy castle.

The sculpture will be activated twice during Art Week by a 2-hour dance performance where Kjær and four performers bounce into the soft sculptures, getting swallowed into its flexible silver fabrics. The young performers fight the carnivorous flowers with large fangs. Who eats who? Who grows the most? And can everything be digested over time if you suck out the nutrients slowly enough? It's a totally maximized collapse, funfair and fashion show all at the same time. In the performance, there will be sequences where the dancers start to eat each other and hyperventilate, constructing sculptural scenarios and compositions that tell stories about humanity's urge to create, the beauty of nature's wildness and our attempts to master it.

Presented outdoors in the tropical landscape of the iconic Fontainebleau Hotel, the visual element of these plants is further enhanced, like a grotesque laboratory experiment where once innocent flowers have grown out of our reach and now meander menacingly through the crowds of this metropolis built on porous sandstone; a holiday paradise slowly sinking into the sea. In HYPER! Pop culture icons have grown so large that they become dangerous. HYPER! is an artificial landscape where nothing is natural. Everything is Hyper Pop, Hyper Nature and Hyper Culture.

HYPER! is generously supported by The Danish Arts Council. The production of the sculpture is supported by the New Carlsberg Foundation.

HYPER! premiered in Basel, Switzerland at Museum Tinguely in August 2022, during their exhibition BANG BANG!
The Bas Fisher Invitational (BFI, Miami) is a 501c3 artist-run exhibition venue founded in Miami in 2004 by artists Naomi Fisher and Hernan Bas. BFI is dedicated to creativity, experimentation and discourse in contemporary art. BFI creates a bridge between Miami and the international art world by curating projects with both local and global artists in collaboration with national and international partner organizations. BFI fosters community by offering support for artist projects, through WATERPROOF MIAMI, a site-specific curatorial platform that presents exhibitions and public programming that directly address environmental issues facing South Florida; WEIRD MIAMI, a series of artist-led tours that show locals and visitors Miami through artists' eyes; and NOMADIC MIAMI, an experimental model for presenting site-specific projects that let artists lead the way to determine the best locations and methods to present their work.
WATERPROOF MIAMI IS A COLLABORATION BETWEEN
BAS FISHER INVITATIONAL --&-- BRIDGE INITIATIVE

MIAMI FL 2022