CORAL CITY CAMERA
CORAL MORPHOLOGIC


FEB 2020

LEARN MORE ON

CORALCITYCAMERA.COM

PRESS -
Is the background on this page murky? The tide may be going out. Dark? The sun must have set in Miami for the day. This webpage's background is a live-view into Biscayne Bay, via the Coral City Camera, so we hope its loading crystal-clear!



Coral City Camera is a multimedia artwork and research tool, developed by artist-scientist duo Coral Morphologic. The 360-degree livestream broadcasts in realtime from a thriving urban coral reef community in Biscayne Bay that Coral Morphologic has used as a research site since investigating the impact of the Port of Miami's supertanker dredging project. The Coral City Camera has cataloged over 120 species of fish, with exciting sightings of manatees, sharks, sea turtles, octopuses, and rays, all in the busy channel thats shared by cruise-ships, tankers, and jetskis.

BFI (Bas Fisher Invitational) and Bridge Initiative worked with the artists to preview the CCC at Design Miami in December 2019, and bring the project online with a launch event at Pérez Art Museum Miami in February 2020. At PAMM, the CCC was adapted into a waterfront video installation, floating on a giant screen from Ballyhoo Media.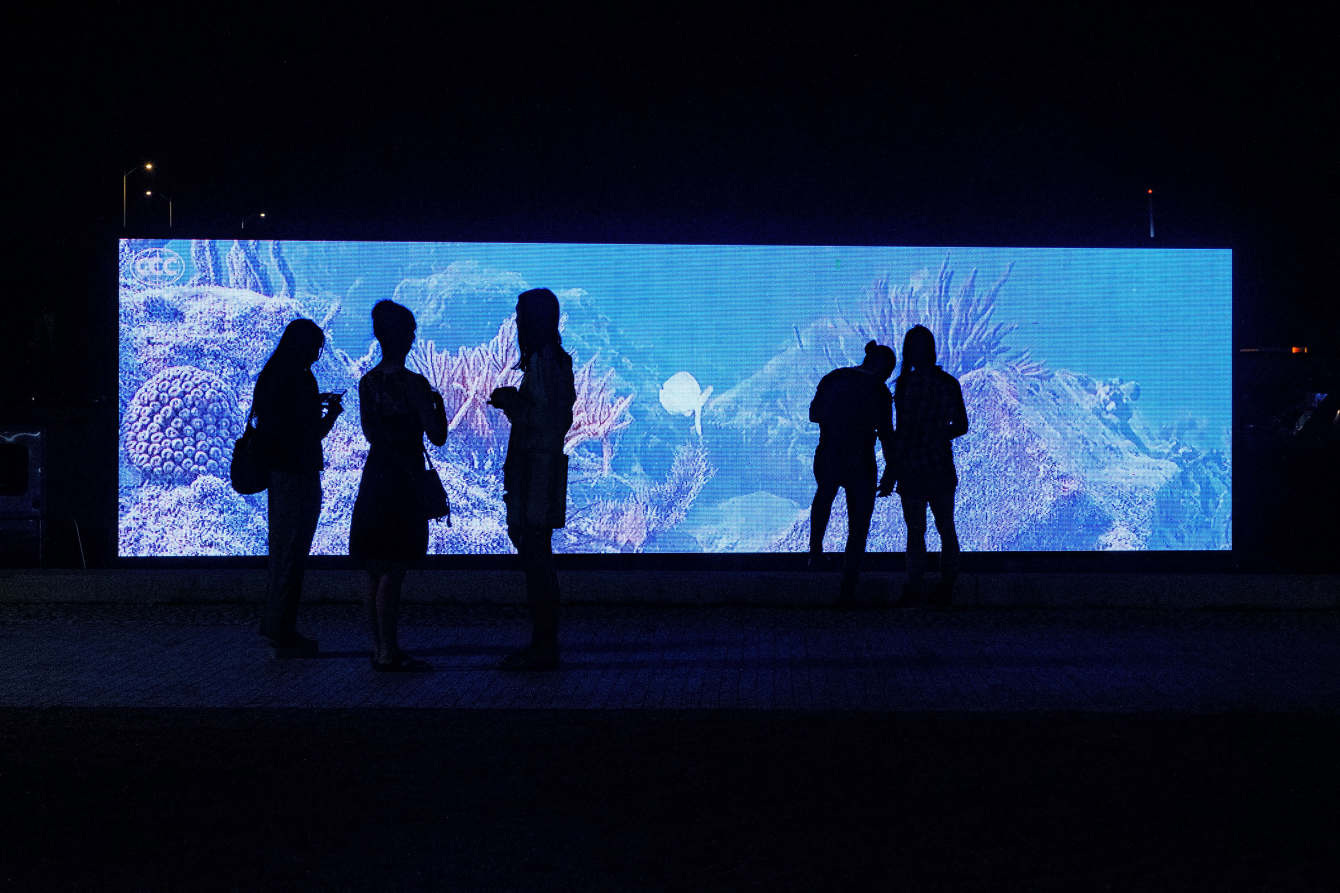 Through a partnership with the Everglades Foundation, Coral City Camera is also being used in schools so that students can remotely learn about Florida's marine ecology from their classrooms or homes. The Everglades Foundation has developed a curriculum that is being intigrated across across 21 school districts throughout Florida, providing an opportunity for over 100,000 students to work as citizen scientists while experiencing this multimedia artwork. Under stay at home orders, the work has been a calming source of entertainment for viewers of all ages.

Resources for learning more:

-Coral City Camera Website
-Make a donation to the CCC

-See a coral and sponge ID guide for the CCC

-See List of fish species we've observed on the CCC (120+ so far!)
-Listen to mixtapes made specifically for the CCC

---
Watch: Panel Conversation at PAMM for the Coral City Camera Launch Event on February 6, 2020
-

National Geographic Explorer, filmmaker, and Ph.D. student Alizé Carrère moderates a panel discussion featuring Coral Morphologic's Colin Foord, NOAA scientist Dr. Ian Enochs, and Elizabeth Wheaton, Director of the City of Miami Beach Environment & Sustainability Department.
Watch: Coral City Camera: A Hybridization of Art, Technology, and Science at Lowe Art Museum
Panel Conversation held on January 13th, 2022
-
Virtual Talk with Colin Foord, marine biologist, coral aquaculturist, arist, and filmmaker and Dalton Hesley, Senior Research Associate III, University of Miami RSMAS, Rescue-a-Reef, as they discuss the Coral City Camera.
WATERPROOF MIAMI IS A COLLABORATION BETWEEN
BAS FISHER INVITATIONAL --&-- BRIDGE INITIATIVE

MIAMI FL 2022